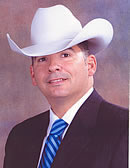 Texas Ranger Jose Noe Diaz, Jr.
This Texas Ranger. filed false affidavits based on hearsay from his City of Katy, Texas friends, which include Chief Hastings and Captain Gay Dickerson from the City of Katy Police Department.
If you want to see how this criminal can conspire and bring false and wrongful charges against innocent people see one of the cases' story in the following web page link: Documentation Proving the City of Katy, Texas Criminally Conspire to Bring False Charges to Citizens Who Make a Complaint.
The false, deceptive and misleading information filed by this bad and rookie Texas Ranger ultimately resulted with the apprehension and wrongful incarceration of an innocent man.
The innocent man had irrefutable evidence and Texas Ranger Jose Noe Diaz, Jr. refused to even consider it.
Even after complaints were made to the Texas Rangers, information which includes irrefutable evidence of the innocence of the individual and criminal perjuries from Diaz's friends, this rookie Texan Ranger continued supporting the criminals who provided him with false information in an alliance of corruption.
This rookie Texas Ranger cannot be trusted as we have evidence that proves his loyalty does not lie with justice but with his corrupt good old buddies.
We have information Diaz has:
1. Lied to the the Harris County District Attorney,
2. Conspired with to imprison an innocent person, and
3. Conspired to cover-up the evidence.
This man is not credible and should not be allowed to testify in court in any civil or criminal matters.
Any time you speak with anyone in government or police turn on your video and/or audio recorder.
Please contact us if you want more information about these issues.
This is the actual false report convicted criminal Sean M. Kiley and his co-conspirator Jose Noe Diaz, Jr. filed:
Jose Noe Diaz, Jr. False Report_Redacted
Please note some documents are redacted to protect the identity of the real innocent citizens. All information can be provided without redacting if proper request is made.
Note that you can also contribute.
If you have any information about any candidate or person, please mail it to us
to the address below or scan and email it to us (electronic document must be less than 2 MB):
KEEP USA HONEST
PO Box 940506
Houston, TX 77094
admin@keepusahonest.com