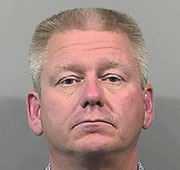 John Cox, Marshal, Mancos CO (Drunken Driving Mug Shot)
Although abuse of power and perjury complaints have been filed and his past criminal history have been available of City of Katy Policeman Sean M. Kiley, Marshal Bill Knauer from the Town of Mancos, Colorado hired Sean Kiley in 2012. Since he hire him, Marshal Bill Knauer has been protecting him at all costs.
It is apparent that Marshal Bill Knauer does not make background checks or does not care for criminal backgrounds when hiring new personnel in a negligent manner hiring personnel with prior criminal convictions.
Marshal Bill Knauer left Mancos and went to Fortville, Indiana as police chief while on March 19, John Cox took over the Mancos Marshal.
John Cox has a prior drunken driving conviction and then was also arrested in 2009 for drunken driving again. As a result he lost his job as the Center Grove Schools Police Chief. However, Mayor Rachael Simbeck, and the six trustees of Mancos, CO, Perry D. Lewis, Mayor Pro-Tem, Queenie Barz, Todd Kearns, Rovilla Ellis, Reneata Collins and Chip Tuthill have him as Mancos Marshal and ex-convicted criminal Sean M. Kiley as Deputy Marshal.
Any time you speak with anyone in this group turn on your video and/or audio recorder.
Sources:
1. http://www.wthr.com/Global/story.asp?S=11212673#.UW7r5IlSHB4.email
2. http://www.theindychannel.com/news/police-chief-arrested-on-drunken-driving-charge
Sean M. Kiley Criminal Record From Deer Park Police
Sean M. Kiley Criminal Conviction Judgments
Note that you can also contribute.
If you have any information about any candidate or person, please mail it to us
to the address below or scan and email it to us (electronic document must be less than 2 MB):
KEEP USA HONEST
PO Box 940506
Houston, TX 77094
admin@keepusahonest.com