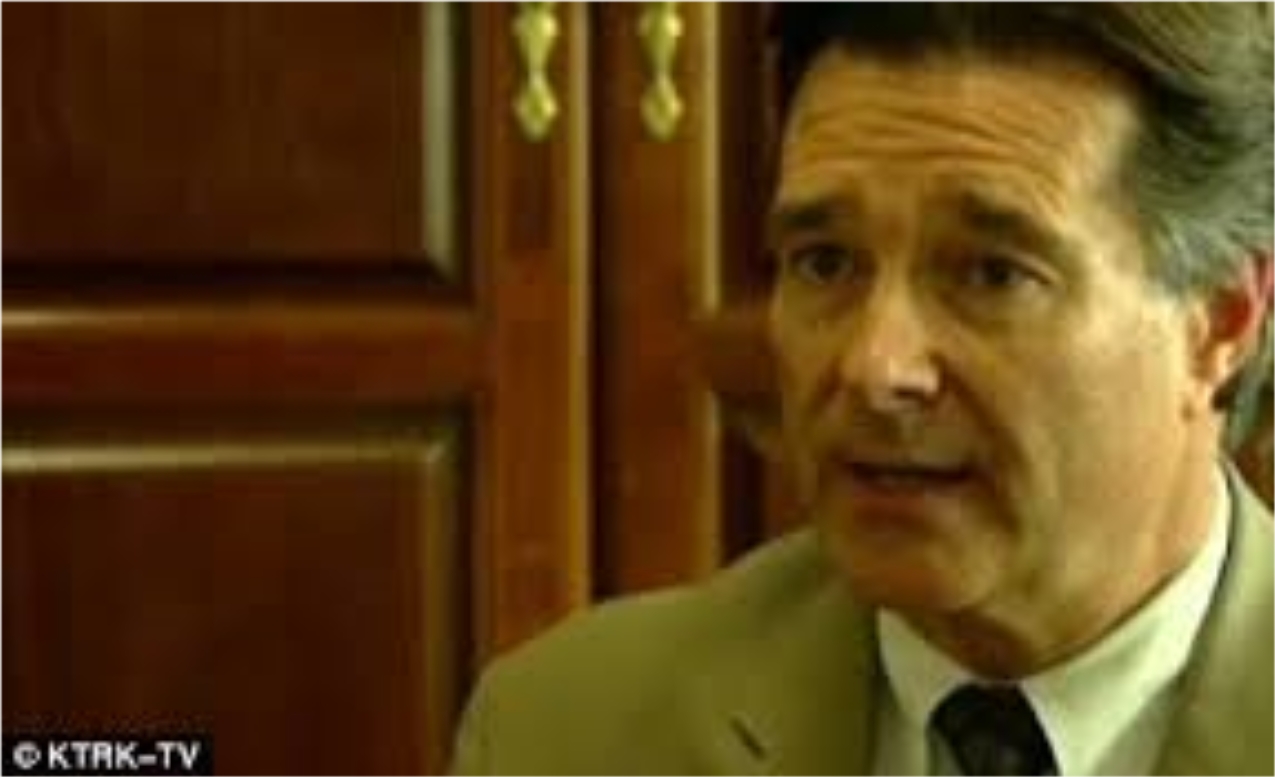 John Healey, District Attorney, Fort Bend County, Texas.
"Winner" of the Texas Monthly WORST DISTRICT ATTORNEY OF THE YEAR
John Healey has been categorized as the worse district attorney by Texas Monthly. Healey was the "winner" of the Texas Monthly Worst Prosecutor of the year for 2012 via the Bum Steer Award. Although Mr. Healey has stated he is a conservative, Mr. Healey has been an adamant gun rights opponent. For example he harassed Mr. James Smith, an elderly man, after Mr. Smith was verbally assaulted and threatened with physical harm at a gas station as it will be shown below. He is a 2nd Amendment enemy who does not even allow his own employees to carry firearms for their own protection as allowed by law & Prosecutes CHL Holders for being in possession of a Firearm. Please go down and see the story of Mr. Smith who was harassed by Mr. Healey for over a year and a half. GUN OWNER ADVOCATES SHOULD BE TOTALLY OUTRAGED ABOUT THIS CASE as Mr. Healey claims to be a conservative, but disregards the rights of the citizens of Fort Bend County to defend themselves even if they are elderly and disabled.
Mr. John Healey was fined by the Texas Ethics Commission for campaign finance ethics violations as will be shown below.

Mr. John Healey has been a career politician who has been living out of the government paychecks since 1982. He has literally zero prosecutorial experience since he has not tried any criminal case since 1993! Believe it or not!

Healey's office has literally hundreds of cases on the no indictment list with some cases awaiting trial for over SIX YEARS! The Fort Bend County DA's office has literally hundreds of cases on backlog and dozens of people in jail awaiting trial for years, costing Fort Bend County tax payers millions of dollars. The DA's office had over 1300 cases in which Mr. Healey's office failed to file the proper paperwork for the cases to be able to go foreword without his paperwork. In one case a murderer walked free since even after 90 days Healey did not file any paperwork! There has been multiple Defendants including murder and other aggravated offenders forced to be released from jail due to missed indictment deadlines by Healey's office.

Mr. Healey has hidden Exculpatory / Brady information, contrary to Justice. This information was necessary to exonerate innocent individuals as it is required to be disclosed by law.

Most of his Assistants consistently arrive late to court appearances 15 or more minutes late for Court increasing court expenses. Note some defendant's attorneys are appointed and paid by the Fort Bend County Taxpayers while waiting for the Fort Bend County attorneys.

Mr. John Healey is the ONLY KNOWN DA that has lost a capital murder trial with a police officer as the victim. But also, Mr. Healey has a well earned reputation for covering up and minimizing Peace Officer / Public Official Misconduct as political favors.

Mr. Healey is the target of ongoing Brady / Exculpatory evidence violation investigation in hundreds of cases.
Mr. John Healey won "The Worst DA Award" for many reasons. These are just a few:
JAMES SMITH'S CASE:

This is the case of Mr. James Smith, an elderly and disabled man. We will be posting pictures here in which Healey wrongfully prosecuted an elderly man Mr. James Smith. Mr. Smith was at a gas station in Fort Bend County. The case can be found in the Fort Bend County Courts with cause no. 13-CCR-168084. As Mr. Smith and his wife (of similar advanced age) went to the gas pump another car almost crashed against theirs trying to cut in line. Mr. Smith complained and a man from the other car emerged screaming at Mr. Smith and threatening bodily harm.

A deputy at the gas station told the insolent man to go back to his car and put gas at another pump and to leave the old man alone. Mr. Smith had gone to his car and sat with a pistol on his lap. The aggressor went all the way to Mr. Smith's car and continued yelling and saw the gun that was low on the seat. This makes it apparent that the aggressor had to go close to Mr. Smith's car to threaten him.

About a month later a Fort Bend County detective called Mr. Smith. After Mr. Smith told the detective the story, the detective told Mr. Smith not to worry about it since he had the right to defend himself, particularly after the threats of bodily injury.

About a year later, Mr. Healey pressed charges against Mr. Smith instead of the aggressor who threatened bodily injury against the old and disabled man. After many resets and going to court, MR. JOHN HEALEY REFUSED TO HEAR THE TRUTH and the case was set for trial one afternoon. That afternoon, the Fort Bend County prosecutors were so ashamed of themselves knowing they harassed an innocent man for over a year that THEY DID NOT SHOW UP FOR THE TRIAL so the Judge dismissed the case.

Mr. Smith claims the entire case brought extreme anguish and despair and that up to date the case still hunts him and makes him very upset. We need to praise Defense Attorney Mike Elliott for defending Mr. Smith with minimum charges since Mr. Smith has to survive with very low income.
Charges for making terroristic threats of bodily injury were never brought against the real aggressor and Mr. Healey has refused to apologize to or expunge Mr. Smith's records.
JAMES ROBERTS'S CASE:
This is the case of the Mayor of Fulshear James Roberts. Until it happens to you, you will not understand the hardship and mental anguish that wrongful prosecutions impose on innocent people by Mr. Healey.
Without any evidence of ownership, Mr. Gibson, an ex-con with many prior criminal history, complained against the Mayor of Fulshear James Roberts concerning two carports he actually placed in private property. Mr. Healey actually presented documentation to the Grand Jury that omitted the proof of ownership (since there is none) and omitted that Mr. Gibson had placed the carports in Metro's property. Mr. Roberts as mayor of Fulshear moved the carports and was wrongfully accused of several unfounded felonies. After spending thousands of man hours and hundreds of thousands of dollars for defence, after the trial, the jury took only one hour to exonerate Mr. James Roberts. UP-TO-DATE John Healey refuses to admit they never had any evidence of ownership and refuses to admit the carports were moved to an easement that allowed Mr. Gibson access to his property that was located in the rear of Metro's property, but did not give him rights to build or place any buildings in Metro's property.
Some have offered to donate $2000.00 to the charity of Mr. Healey's choice if he presents any proof of ownership by Mr. Gibson of the carports, Mr. Healey has not responded...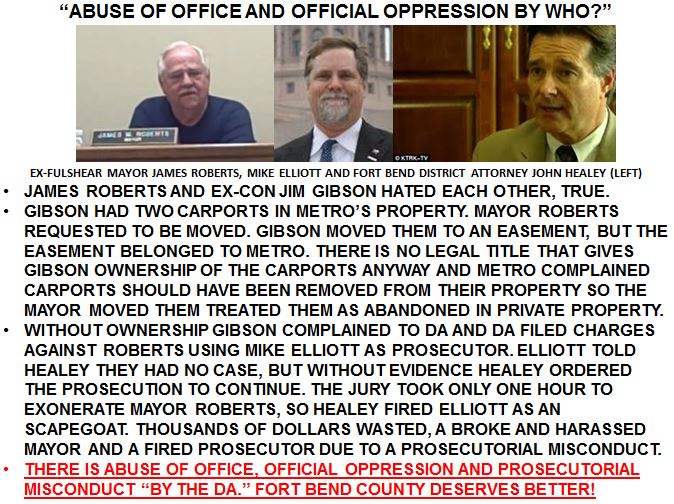 BARRETT CONRAD'S CASE:
This is the case of the Katy Knockout Game criminal who punched a 79 year old man so hard that he broke his teeth and jaw. Mr. Healey has refused to prosecute Barrett Conrad although a video exists of Mr. Conrad bragging and video taping the incident. Several requests have been made to Mr. Healey asking him to bring justice to this case without any response.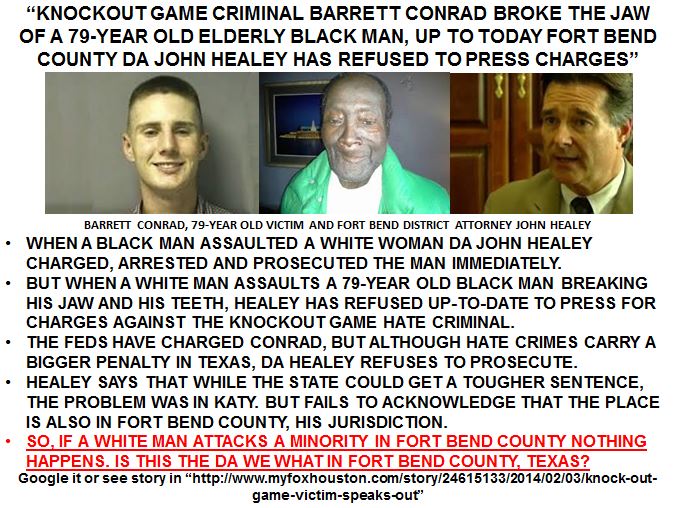 TREVOR NEHLS'S CASE:
This is the case of Trevor Nehls who was running for Constable in Fort Bend County. During a voter reach out at one grocery store, Mr. Trevor Nehls grabbed and pushed his opposition candidate Don McCall's son. The Texas Rangers investigated the incident and recommended prosecution. Mr. Healey used Atwood McAndrew (Woody McAndrew) to dismiss the case with a series of dirty tactics as shown in this link. http://keepusahonest.com/Trever J. Nehls.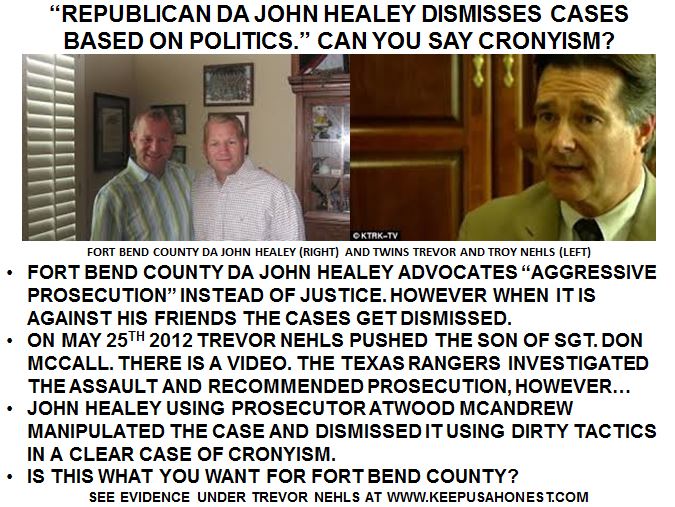 BRUCE FLEMING'S CASE:
This is the case of Bruce Fleming bragging about voting in two places at the same time. That is a crime. Although absolute evidence was presented to Mr. Healey, he refused to prosecute Mr. Fleming for voter fraud making this case just another case of severe cronyism and favoritism. Mr. Healey refused to bring justice to this case shaming the Republican Party.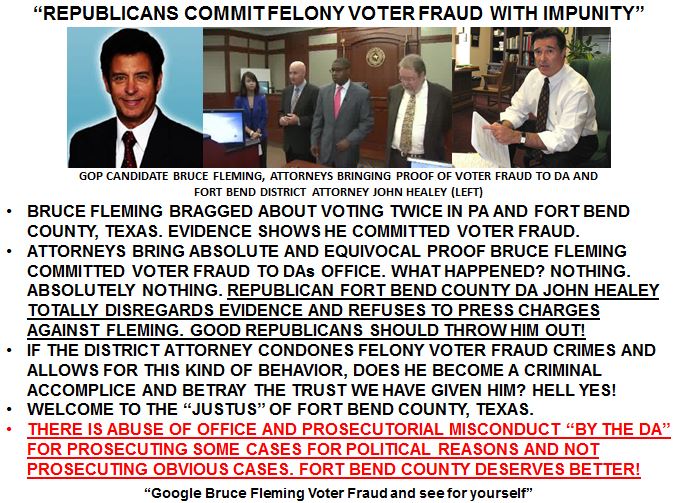 MICHAEL BLAIR'S CASE:

This is the case of Michael Blair who suffered from metal problems. Although Mr. Healey wanted to prosecute the son of ex-police Chief Craig Brady for kicking a man who was pointing a gun to people after being knocked on the ground and fell close to the gun, Mr. Healey refuses to bring charges or even recommend disciplining the cop that shot Mr. Blair 11 times, 8 times on the head, even after Mr. Blair was dead on the floor. You can see in the picture the flash from the cop's firearm as he continued to shoot Mr. Blair after he laid dead on the floor.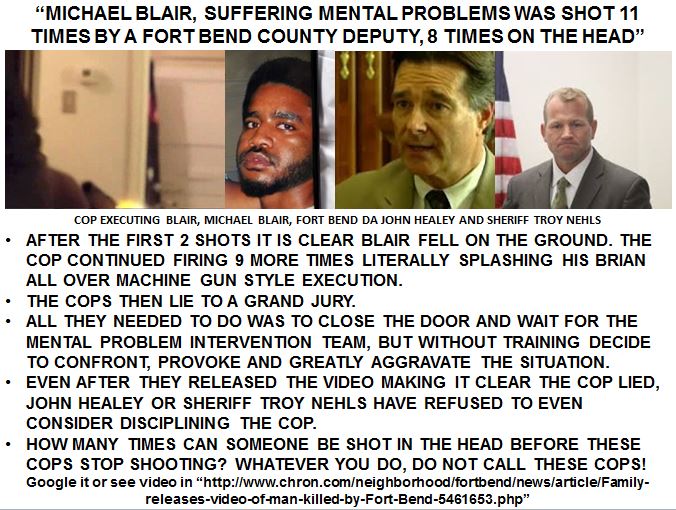 JOHN HEALEY ETHICAL CAMPAIGN FINACE VIOLATIONS:

The Texas Ethics Commission for several violations of the state election code for troubles with his campaign finance reports. Among the violations, Healey didn't specify what office he was seeking for which the campaign contributions were made. Healey said it was an oversight and assumed most people knew he was seeking re-election of the same office. Other "technical errors" included a simple arithmetic mistake in his eight-day pre-election report for the March 7, 2006 primary, which resulted in an incorrect total political expenditure of about $31,600 — $3,700 more than the correct amount of about $27,900. Mr. Healey was found guilty and fined only $1500.00 dollars. Republican John Healey was one of two public officials found to have violated ethics rules. The other, also a Republican, was Commissioner Andy Meyers. John Hawkins, a felony prosecutor of John Healey found Healey innocent of any charges.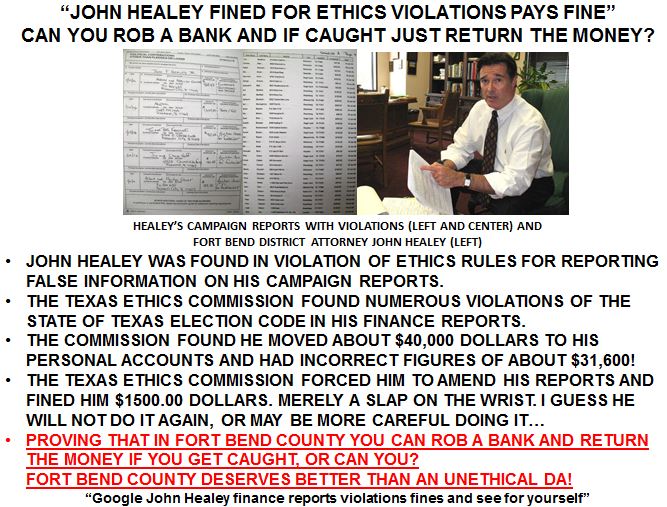 Note that you can also contribute.
If you have any information about any candidate or person, please mail it to us
to the address below or scan and email it to us (electronic document but be less than 2 MB):
KEEP USA HONEST
PO Box 940506
Houston, TX 77094
admin@keepusahonest.com